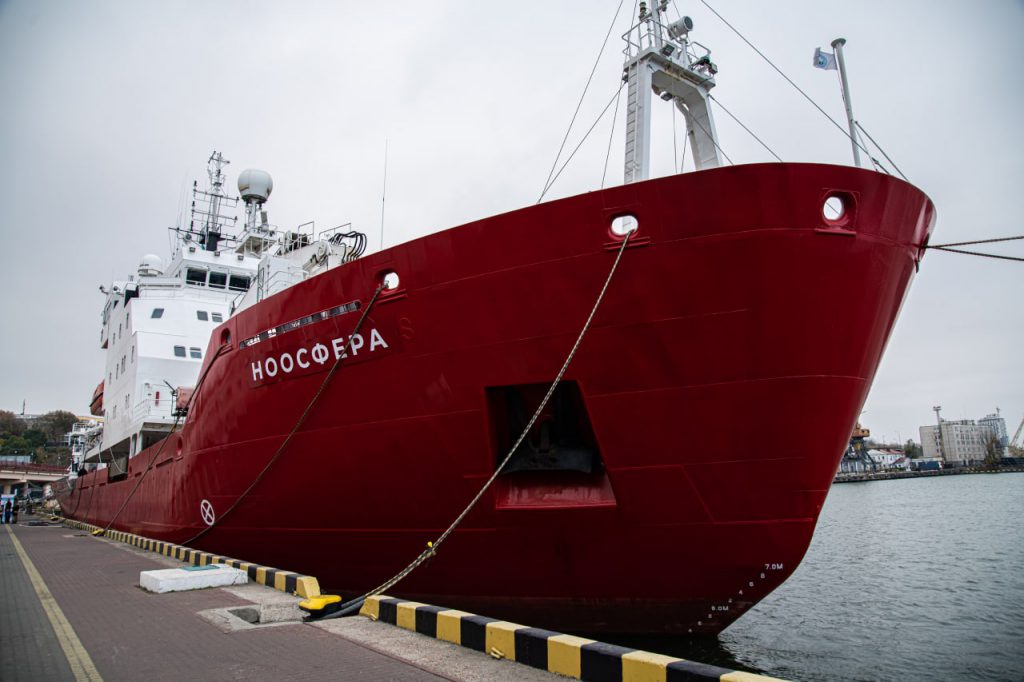 On the eve of the 30th anniversary of Independence – August 19, 2021 – Ukraine acquired the former flagship of Britain's Royal Scientific Navy – RRS James Clark Ross
Before that, for almost 20 years, our country did not have a scientific vessel for polar research: the last independent voyage of Ukraine in the Southern Ocean took place in 2001-2002. Now, using its own research icebreaker, Ukraine can:
●  return to exploration of the World Ocean;
●  to improve logistics and strengthen the capacity of expeditions to the Ukrainian Antarctic Akademik Vernadsky station;
●  create scientific and logistics consortia with other countries;
●  conduct research not only in Antarctica, but also in the Arctic and other regions of the planet.
On August 30, 2021, the blue-and-yellow flag was raised on the ship, and on October 5, she arrived from the city of Frederikshavn (Denmark) to Odessa.
On October 29, 2021, a ceremonial renaming of the vessel took place. In Ukraine, the icebreaker was named "Noosphere" – it is symbolic, since this term comes from the works of Volodymyr Vernadsky, after whom the Ukrainian Antarctic station is named. Thus, the names of the icebreaker and the station logically complement each other.
Now Noosphere is the flagship of the Ukrainian research fleet.
The length of the vessel is a little more than 99 meters, width – almost 19 meters, gross tonnage – 5732 tons. It is equipped with a suite of laboratories and winch systems that allows to study the seabed at a depth of 8 km. In addition to a crew of 27 people, the icebreaker can accommodate up to 50 scientists. The vessel's autonomy of up to 2 months allows conducting research in any point of the World Ocean.
Historical background
The RRS James Clark Ross was built by Swan Hunter Shipbuilders in the UK and launched by HM The Queen in 1990. Named the RRS (Royal Research Ship) James Clark Ross in honor of the legendary British naval officer and polar explorer.
In 1996, when the United Kingdom handed over its Faraday station in Antarctica to Ukraine (now Akademik Vernadsky), it was this icebreaker that delivered the first Ukrainian Antarctic expedition to the icy continent.
For the past 30 years, the icebreaker has served as a global science platform for biological, oceanographic and geophysical research. For example, she participated in the first international study of krill recourse assessment in the Atlantic part of the Southern Ocean, and the data obtained are still used today.