Winterers at Vernadsky station have celebrated Easter. On the eve, the cook Bogdan Palamarchuk baked an Easter cake for each member of the team and prepared meat dishes and smoked meals for the festive table. The doctor Natalia Babii and the expedition leader Ihor Dykyy organized a master class for everyone who wanted on painting Easter eggs by real styluses, which they specially brought to Antarctica from the "mainland".  Of course, in each team, there are representatives of different religions, but the main rule of wintering is mutual respect, mutual assistance and mutual understanding. Therefore, Easter, one of the greatest sacred holidays, which, in Ukraine is celebrated at the state level, we at the station celebrate all together ", – says the leader of the expedition Ihor Dykyy. According to him, especially for such a case, many of the polar explorers took embroidered shirts to Antarctica.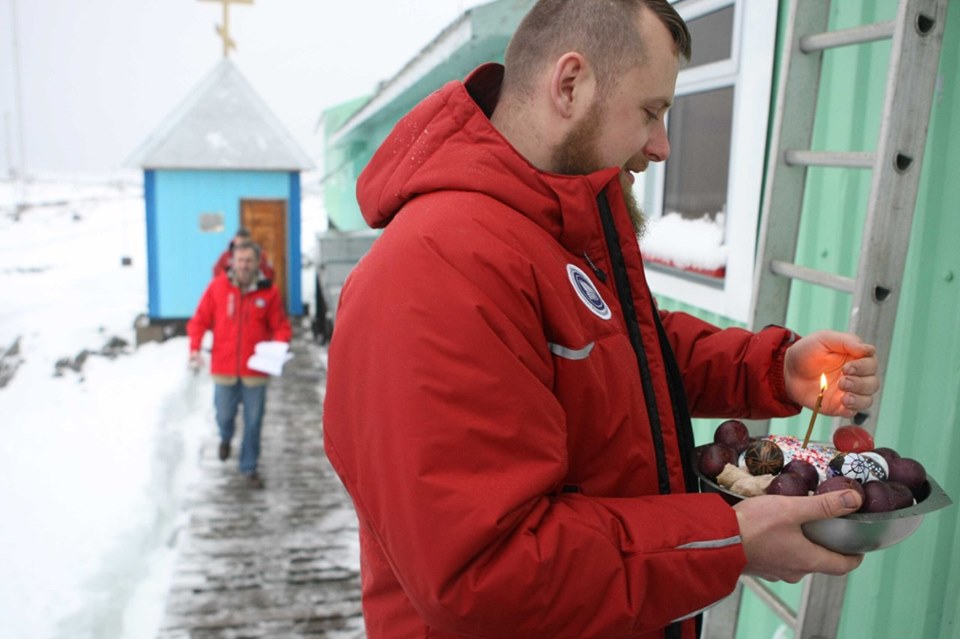 On holiday, there was thaw, zero degrees, and wet snow.
On Sunday, everyone attended the chapel of the Equal-to-the-Apostles Prince Volodymyr, where a copy of Tomos which was recently handed over to the polar explorers by the head of the Orthodox Church of Ukraine, Epiphanius, has been kept.
This is the first great Christian holiday that has been celebrated in the chapel ever since it passed into the OCU. In early April, 36 people voted for the transition: winterers of the 23rd and 24th Ukrainian Antarctic expeditions, as well as scientists from seasonal team who were at that time at Vernadsky station.