This season, large-scale modernization will continue at Akademik Vernadsky station: NASC began it 3 years ago, for the first time since the station was transferred to Ukraine from Britain in 1996.
Why modernization is needed?
Our station was built almost half a century ago, and service life of many elements of the infrastructure have been expired. Despite the British quality, it is necessary to carry out not only repairs, but also partial or complete replacement of structures, systems and communications.
What is planned to do now?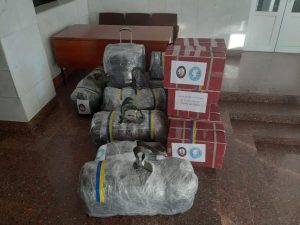 In the Vernadsky area, the weather is variable: usually cloudy, strong winds, rain and snow.
However, during the Antarctic summer, in December-February, the weather is more or less acceptable to carry out work (especially related to welding) outdoors. It is planned that by the end of February 2022, the following important tasks will be completed:
✅ complete replacement of fuel conduits connecting the main and reserve fuel tanks with each other and with the diesel room, replacement of all shut-off valves on pipes and fuel tanks;
✅ organization of a new grounding system for critical infrastructure. This requires drilling in superhard volcanic rocks, basalts and andesites of more than 100 holes with a diameter of 52 mm;
✅ production of piles for a new warehouse building. To do this, it is necessary to dig up snow and ice to the rock, drill 96 holes for rebar, fix rebar in the holes with a chemical fixing, install formwork and concrete 24 piles;
✅ expansion of the waste storage area, to ensure that it is organized in accordance with the provisions of the Antarctic Treaty. This also implies drilling and reinforcement work, concreting and manufacture of walls and roof;
✅  cleaning of the main fuel tank from fuel residues, sediment and paraffins, preparation of its inner walls for anti-corrosion painting;
✅  restoration of thermal insulation and wind barrier under the main building of the station on the area of about 30 square meters;
✅ making new stainless steel fuel tank supplying the heating boilers of the main building and replacing the old tank with it.
Who will carry out the works?
Every year, in addition to the annual expedition, a seasonal one is sent to the station, which includes scientists and technical staff – engineers, mechanics and other high-class specialists. On Sunday, December 5, the first part of the technical season left for Antarctica. These are four engineers: Anatolii Andreiev, Vadym Berezhnoi, Anton Omelchenko and Sergiy Shutyayev. Their journey across the globe, including quarantine in Chile and the sea route to the station, will take about 3 weeks.
It is expected that in February-March, 2022, the second part of the engineering team will arrive at Vernadsky, as a number of technical works are planned for March-April.
The seasonal team members will, to the extent possible, be assisted by their wintering colleagues.
We will inform you about how the modernization is going on and whether the mixed Antarctic weather allows to cope with all the tasks.