The ceremony of special cancellation of a new postage stamp "200 years since the discovery of Antarctica" took place on January 28, 2020 at the General Post Office in Kyiv.
A postage stamp was manufactured in a circulation of 130 thousand copies. An envelope "First Day", a postal card and a special postmark were issued.
The subantarctic penguin is depicted on the stamp, and on the mark sheet there is a photo of Akademik Vernadsky station. In the design of the postage stamp, photos of the Antarctic expeditions' participants Yuriy Shepeta and Denis Pishniak were used.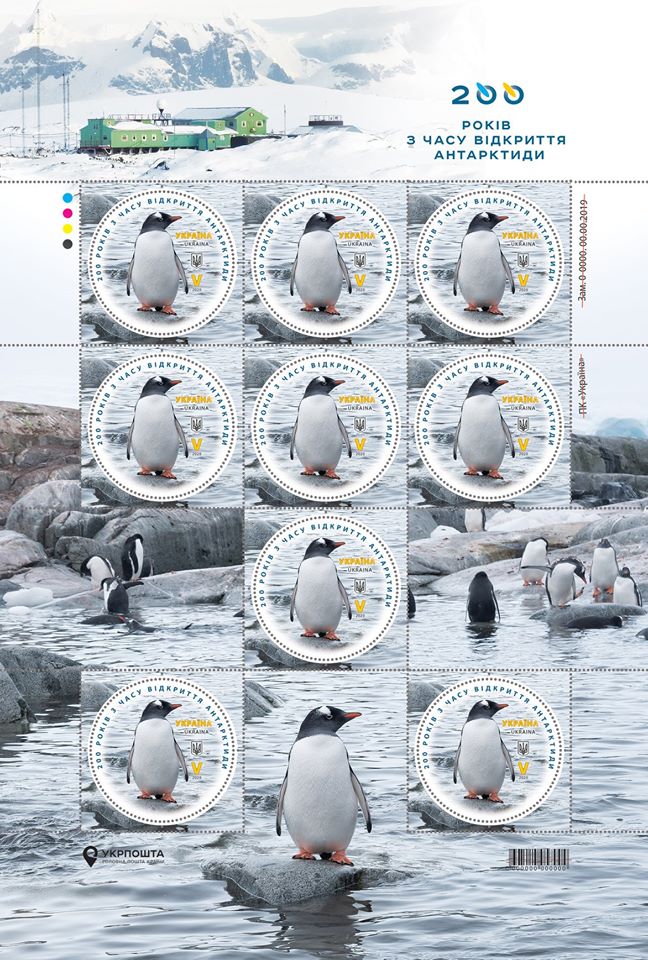 "Today we are celebrating a historic event of 200 years ago, but it is not about the past but about the future – about those investments in our children and grandchildren, such as Vernadsky Station and, in general, polar research. It is about the future exploration of the last continent, in the discovery of which our countryman Ivan Zavadovsky took part, and in the study of which the Ukrainians have been involved for two centuries. About the global research common to all mankind, about the climate and ecology of our planet. Finally, it is about the "international laboratory", which is Antarctica and where humanity is working out a model of interaction between states, companies and people in a territory that does not belong to any country, but to the whole mankind. So, this is the model under which tomorrow the mankind will explore the space, I hope, also with the active participation of Ukraine and Ukrainians," said Evgen Dykyi, the director of the National Antarctic Scientific Center.
After the ceremony of special cancellation a commemorative envelope with a postage stamp and the imprint of a special stamp was handed over to Yurii Otruba, the leader of the forthcoming 25th Ukrainian Antarctic Expedition. He will take the artifact to Akademik Vernadsky station in late March, when he and his team of polar explorers will leave for the wintering.
The Ukrainian Akademik Vernadsky station has been depicted twice on Ukrainian postage stamps:
in 1996 – on the postage stamp «The first Ukrainian Antarctic Expedition";
– in 2009 – on a hitch of two postage stamps "Saving the polar regions and glaciers".
Photo: MES Press Service