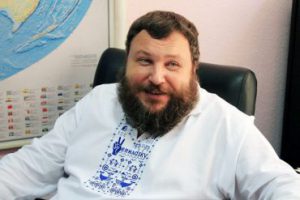 PhD in biology
Date of birth: 28.08.1973
Work experience
February 2018 – National Antarctic Scientific Centre of Ukraine, Ministry of the Education and Science of Ukraine, Director. On July 8, 2019,  the NASC research team has  elected Evgen Dykyi NASC Director.  

2016 – Ukrainian Scientific Centre of the Ecology of the Sea, Senior Researcher
2016 –  2018 – Ukrainian Research Anti-Plague Institute (URAPI), Odesa, Acting Director
2015-2016 – Ukrainian Scientific Centre of the Ecology of the Sea, Ministry of the Environment and Natural Resources of Ukraine, Deputy Director for Research
May – December 2014 – Service member of Ukrainian Armed Forces (24 Territorial defence battalion, also known as "Aidar"), commander of reconnaissance platoon and acting commander of infantry company, participant of the Antiterrorist Operation, demobilized by disability.
2012 – 2014 – M.P. Dragomanov National Pedagogical University, laboratory of ecosystems and sustainable development, Senior Researcher, expert in the working group for energy efficiency, one of the    authors and developers of the "Green University" project (supported by the European Invest Bank).
2010 – 2011 – Scientific Center of Ecological Monitoring of Metropolis, National Academy of Sciences, senior researcher in the Department of Ecological Monitoring.
2008 – 2010 – Ukrainian Youth Ecological League, Kyiv, Ukraine, deputy Director
2001 – 2008 – Kyiv-Mohyla Academy" National University, deputy dean of the Faculty of Natural Sciences
1994-2001 – Nongovernmental organization "Ukrainian committee of human rights "Helsinki-90", executive director
Project leader of USAID «Human rights network» and TACIS: «Human rights advocacy in Ukraine, Moldova, Belarussia» and «Human rights education in Ukraine, Moldova, Belarussia»
Education
PhD in Biology with major in «Hydrobiology» (in the field of Black Sea Ecology) (2007)
"Kyiv-Mohyla Academy" National University, PhD Program in 03.00.16 «Ecology» (1999-2001)
National Taras Shevchenko University, Faculty of Biology (Specialist Degree) (1990-1997)