Ihor Dykyi, Ph.D. Researcher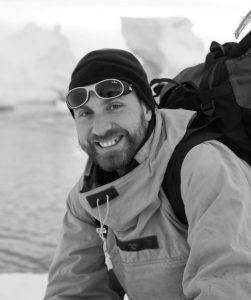 Ihor Dykyi is a doctoral candidate of the Department of Zoology of Ivan Franko National University of Lviv, associate professor, PhD in biological sciences.
Born on December 8, 1974. Graduated from the Department of Zoology of Ivan Franko National University of Lviv.
Ihor Dykyi participated in three Ukrainian Antarctic Expeditions (2006-2007, 2009-2010, 2011-2012), as well as in the expedition to the Altai Mountains (2000), to Alaska (Denali, 2012).
Since 2006 has been working in the field of Antarctic research. The main directions are coenotic relations of the Antarctic land biota, feeding and migration of seals, the success of the breeding and expansion of nesting colonies of Adele and Papua penguins in the Wilhelm archipelago, the resource role of penguins and seals in the Antarctic ecosystem.
In association with the National Antarctic Scientific Center (NASC) is an executor in two CCAMLR scientific projects: Creating a CEMP Camera Network in Subarea 48.1 and Tracking the needs of krill predators during the winter with the help of ARGOS satellites and GLS geolocation labels in Subarea 48.1. Scientific supervisor of NASC research work "Research of penguins' breeding colonies, chronology and success of their breeding in the CCAMLR Subarea 48.1 using CEMP Camera Network".
The author of more than 180 printed works, including 8 collective monographs, 75 scientific papers.