Marchenko Viacheslav, Deputy Director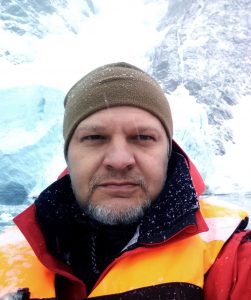 Viacheslav Marchenko was born on May 10, 1973. In 1996 he graduated from the Faculty of Shipbuilding of the Ukrainian State Maritime Technical University in Mykolaiv, mechanical engineer; in 2006 – postgraduate study at the National University "Kyiv-Mohyla Academy" in the specialty "Ecology".
2006 – service in Directorate-General of the Ministry of Internal Affairs of Ukraine in the Mykolaiv region.
2007-2012 – work in commercial structures, private entrepreneur.
2012-2013 – work in International Charitable Foundation, Deputy Executive Director.
2013-2014 – National Pedagogical University named after MP Drahomanov, leading specialist (engineer), expert of the working group on energy saving, one of the developers of the project "Green University" (with the involvement of the European Investment Bank).
In 2014 he went to the front as a member of the volunteer battalion "Harpoon", held the position of deputy commander of the battalion, awards: diploma with honors from Special Alpha Group of the Security Service of Ukraine; medal from the Mayor of Kyiv "Honor. Glory. State"; medal "For Sacrifice and Love for Ukraine" received from the Ukrainian Orthodox Church – Kyiv Patriarchate. After his dismissal due to a concussion in March 2016, he worked as a deputy head of the State Service of Ukraine for War Veterans and ATO Participants, a civil servant of the 3rd rank.
Since July 1, 2019 – NASC Deputy Director.
Member of the Ukrainian-Polish scientific expedition to Svalbard (2009) carried out diving works. In 2002-2020 participated in numerous Black Sea research projects. Was a member of the 25th UAE seasonal team at Ukrainian Antarctic "Akademik Vernadsky" station.  Diver-instructor.