Ihor Moroz Chief engineer​ ​​​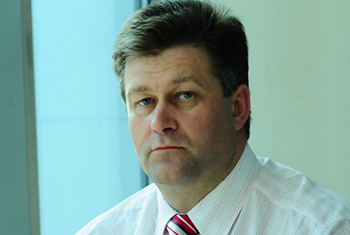 In 1984graduated from the Tomsk Higher Military Command School of Signal Corps.
He went from being a lieutenant to colonel. Since 1992 served in the Armed Forces of Ukraine at various positions in the Center for Integrated Technical Control of the Ministry of Defense of Ukraine, in the State Service of Ukraine for Technical Protection of Information, in the State Committee of Ukraine on Protection of State Secrets, in the Department of Arms of the Ministry of Defense of Ukraine.
In 2006 complited the military service as a Head of Department of Information Protection, Cryptology and Documantary support of the Armed Forces Command. Since then, he has worked in the security service of a commercial bank and in the State Committee for Technical Regulation and Consumer Policy of Ukraine.
On September 2, 2010 Ihor Moroz was appointed to the post of Chief Engineer of the National Antarctic Scientific Center of Ukraine. Was the participant of the 17th, 19th, 20th, 22nd and 23rd Ukrainian Antarctic Expeditions.